Press Releases
CermaClad™ Clad Pipes Win Pipeline Industries Guild's "Subsea Pipeline Technology of the Year" Award
April 02, 2013

MIAMI--(GLOBE NEWSWIRE)-- Adding to an already impressive collection of innovation and technology awards, Abakan Inc. (OTCQB: ABKI) ("Abakan") today announced that its proprietary CermaClad™ clad pipe product was awarded the coveted "Subsea Pipeline Technology of the Year" award by the Pipeline Industries Guild. MesoCoat, an Abakan subsidiary that developed the CermaClad™ technology, received the award at the Pipeline Industries Guild National Dinner in London on March 12.
"Our CermaClad™ technology is expected to dramatically improve the cost structure, reliability, and component maintenance norms for the oil and gas industry," said Abakan CEO Robert Miller. "Over 70 percent of the world's remaining oil and gas reserves are in very corrosive environments, an issue exacerbated in subsea environments which are now much deeper and farther away from the shore, and our technology offers the best performance, cost and robustness of any competing clad pipe technology. Receiving this award is a great honor, and it further confirms the novelty and potential industry-wide impact of our technology."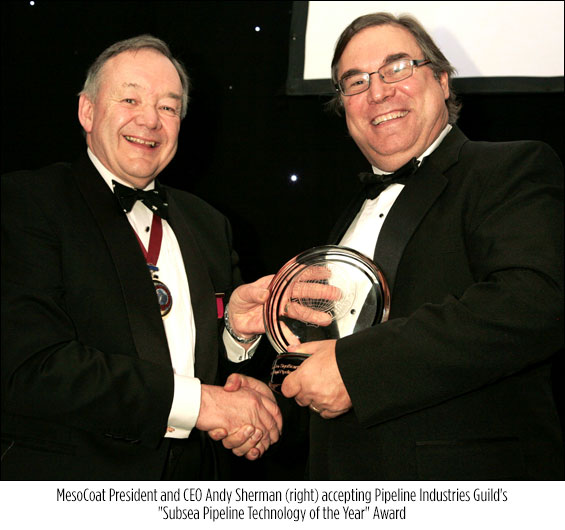 The CermaClad™ high-speed large-area clad pipe technology produces a superior metallurgical clad pipe product for the oil and gas industry, where availability of metallurgical clad pipes and the associated lead time have been a major concern. The technology uses a high intensity plasma light source -- "mini-sun" -- to rapidly fuse anti-corrosion and anti-wear materials to large areas of steel, including pipes. MesoCoat's process offers 40 times higher productivity compared to current metallurgical cladding technologies and it enables a three to six times longer life for metal assets and improved metallurgical and mechanical properties at the lowest lifecycle cost. CermaClad™ offers on-time delivery, and up to 80 percent reduction in lead times for seamless, metallurgically clad pipes at costs lower than those of competing alternatives.
The Pipeline Industries Guild was formed in 1957, and it is the only association worldwide to cater directly to the needs of the pipeline industry, regardless of engineering discipline, application or qualification. The Guild's membership comprises those with interests in pipelines that transport hydrocarbon products, chemicals, water, wastewater and many other substances, both on and offshore.
About Abakan Inc.
Abakan develops, manufactures, and markets advanced nanocomposite materials, innovative fabricated metal products and highly engineered metal composites for applications in the oil and gas, petrochemical, mining, aerospace and defense, energy, infrastructure and processing industries. Abakan's technology portfolio currently includes high-speed, large-area metal cladding technology; long-life nanocomposite anti-corrosion and-wear coating materials; and high-strength, lightweight metal composites. Abakan's products have demonstrated longer life, higher productivity and extremely high strength-to-weight ratios compared to competing technologies. The Abakan group of companies have been honored by The Wall Street Journal for being in Manufacturing Innovation across the globe, by Forbes as the #1 Most Promising Material Science Company in the United States and has received numerous other trade, industry and technology awards including 5 R&D 100 Awards and a Technology Innovation Award from National Institute of Standards and Technology. Over $50 million has been invested in product development and testing by federal agencies, national labs, and our companies in order to deliver products that offer improved performance over the current state of art. Abakan has successfully introduced its metal coatings for metal asset protection and life-extension in the oil and gas and mining industries, and is currently focusing on the scale-up and commercialization of its highly-disruptive metal cladding products for the oil and gas, oil sands, mining, and chemical industries. Abakan currently operates from multiple locations in United States and Canada, and intends to expand global operations in South America, Canada, Middle East, and Asia-Pacific.
Forward-Looking Statements
A number of statements contained in this press release are forward-looking statements. These forward looking statements involve a number of risks and uncertainties including technological obsolescence, market acceptance of future products, competitive market conditions, and the sufficiency of capital resources. The actual results Abakan may achieve could differ materially from any forward-looking statements due to such risks and uncertainties. Abakan encourages the public to read the information provided here in conjunction with its most recent filings on Form 10-K and Form 10-Q. Abakan's public filings may be viewed at www.sec.gov.
Abakan Inc.
Robert Miller, Chief Executive Officer
Phone: +1-786-206-5368
Email: [email protected]
www.abakaninc.com
Investor Relations
Mike Bowdoin
RedChip Companies for Abakan Inc.
407-644-4256 ext. 110
[email protected]

Media Inquiries
Jan Helbing
Antenna Group for Abakan Inc.
415-977-1912
[email protected]