Press Releases
MesoCoat Achieves AS9100C and ISO 9001:2008 Certifications
February 26, 2013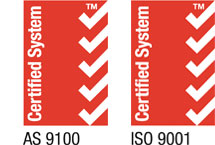 MIAMI--(GLOBE NEWSWIRE)-- Abakan Inc. (OTCQB: ABKI) ("Abakan"), an emerging leader in the advanced coatings and metal formulations markets, today announced that its subsidiary MesoCoat's Quality Management System has been certified to AS9100C and ISO 9001:2008 standards by SAI Global after an intensive audit. The certifications apply to MesoCoat's metallurgical laboratory and coating services operations supporting its component manufacturing and repair division.
MesoCoat develops and provides wear and corrosion solutions using innovative surface engineering technologies. MesoCoat's coating services group provides OEM component coating and worn component remanufacturing services for critical components in the general industrial, aerospace and defense, fluid management, metals processing, and energy production market sectors. MesoCoat's flagship product line of PComP engineered nanocomposite ceramic metals (cermet) coatings are applied using thermal spray, an environmentally friendly coating process, and offer 3-80X the life of competing surface engineering solutions by reducing friction and wear. MesoCoat's nanocomposite coating solutions offer end users the ability to extend the life and maintenance interval of critical components including hydraulic cylinders, valve and pump components, molten metal processing rolls, bearing and shaft surfaces, and a wide variety of other components subject to corrosion, wear, and other severe environment exposures.
The AS9100C and ISO 9001:2008 certifications are awarded as an acknowledgement of a robust quality management system implemented by the company, and highlight its ability to consistently provide products that meet customer and regulatory standards. The certifications are a reflection of MesoCoat's continuous efforts to provide component manufacturing and repair services of the highest quality and will strengthen the company's competitive position and standardize quality processes across its entire PComP and coating services portfolio.
As part of the AS9100C certification, MesoCoat is now listed on the OASIS (Online Aerospace Supplier Information System) database, managed by the International Aerospace Quality Group (IAQG) which is sponsored by three governing bodies -- the European Association of Aerospace Industries (AECMA), the SAE International, and the Society of Japanese Aerospace Companies (SJAC). The IAQG is a cooperative of worldwide prime aerospace industry companies that jointly develop standards for high quality products.
The AS9100C standard was established by the IAQG, and is the most recent quality management system for manufacturers of products for the aviation, aerospace and defense sectors. The AS9100C standard is designed to meet the stringent and complex demands set forth by the ISO9001 standard, but also includes approximately 100 additional requirements specific to the defense and aerospace industries. Major aerospace OEMs, manufacturers, and suppliers require compliance and/or registration to AS9100C:2009 as a condition of being able to do business with them.
The ISO 9001:2008 addresses various aspects of quality management and contains some of ISO's best known standards. The standards provide guidance and tools for companies and organizations who want to ensure that their products and services consistently meet customer's requirements, and that quality is consistently improved. The standard is based on a number of quality management principles including a strong customer focus, the motivation and implication of top management, the process approach and continual improvement. Using ISO 9001:2008 helps ensure that customers get consistent, good quality products and services, which in turn brings many benefits.
About Abakan Inc.
Abakan develops, manufactures, and markets advanced nanocomposite materials, innovative fabricated metal products and highly engineered metal composites for applications in the oil and gas, petrochemical, mining, aerospace and defense, energy, infrastructure and processing industries. Abakan's technology portfolio currently includes high-speed, large-area metal cladding technology; long-life nanocomposite anti-corrosion and-wear coating materials; and high-strength, lightweight metal composites. Abakan's products have demonstrated longer life, higher productivity and extremely high strength-to-weight ratios compared to competing technologies. The Abakan group of companies have been honored by The Wall Street Journal for being in Manufacturing Innovation across the globe, by Forbes as the #1 Most Promising Material Science Company in the United States and has received numerous other trade, industry and technology awards including 5 R&D 100 Awards and a Technology Innovation Award from National Institute of Standards and Technology. Over $50 million has been invested in product development and testing by federal agencies, national labs, and our companies in order to deliver products that offer improved performance over the current state of art. Abakan has successfully introduced its metal coatings for metal asset protection and life-extension in the oil and gas and mining industries, and is currently focusing on the scale-up and commercialization of its highly-disruptive metal cladding products for the oil and gas, oil sands, mining, and chemical industries. Abakan currently operates from multiple locations in United States and Canada, and intends to expand global operations in South America, Canada, Middle East, and Asia-Pacific.
Forward-Looking Statements
A number of statements contained in this press release are forward-looking statements. These forward looking statements involve a number of risks and uncertainties including technological obsolescence, market acceptance of future products, competitive market conditions, and the sufficiency of capital resources. The actual results Abakan may achieve could differ materially from any forward-looking statements due to such risks and uncertainties. Abakan encourages the public to read the information provided here in conjunction with its most recent filings on Form 10-K and Form 10-Q. Abakan's public filings may be viewed at www.sec.gov.
Abakan Inc.
Robert Miller, Chief Executive Officer
Phone: +1-786-206-5368
Email: [email protected]
www.abakaninc.com
Investor Relations
Mike Bowdoin
RedChip Companies for Abakan Inc.
407-644-4256 ext. 110
[email protected]

Media Inquiries
Jan Helbing
Antenna Group for Abakan Inc.
415-977-1912
[email protected]