Press Releases
MesoCoat ranked #50 in Forbes list of America's 100 Most Promising Companies
December 02, 2011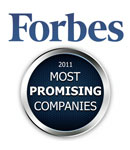 MIAMI, FLORIDA -- Abakan Inc. (OTCQB "ABKI") ("Abakan") is pleased to announce that its subsidiary MesoCoat Inc. has been ranked #50 in Forbes list of America's 100 Most Promising Companies. MesoCoat is ranked highest amongst four companies that represent the materials industry in the list; ranked number one in Ohio, and is the only nanocomposite company on this list.
MesoCoat Inc. currently occupies two facilities in Ohio with a third 11,000 sq. ft. facility under-construction (expected production start date, Jan. 2012). This new Eastlake facility will be their fourth facility in Ohio within a 5 mile radius. It will primarily be used for cladding plates and components for the oil and gas, mining, and shipbuilding industries; along with thermal spray coatings to serve the oil and gas, and mining industries in the U.S.
MesoCoat provides industry-leading wear and corrosion solutions with its twin technology platforms of high-speed large-area fusion cladding technology (CermaClad™) (which offers 15-100X higher productivity and 6X better corrosion and 3X better wear resistance at lower costs compared to competing solutions); and its high strength, high toughness ceramic-metallic nanocomposite coatings (which provide unparalleled wear and corrosion resistance at lowest life cycle costs in target applications). MesoCoat is currently completing the final field testing of its PComP™ nanocomposite metal coatings with Fortune 500 Oilfield equipment manufacturers and has begun development of full scale metallurgical clad pipes for qualification in its new production facility.
"We are honored that our potential is recognized by an institution of Forbes' reputation," said MesoCoat's CEO and founder Andy Sherman. "Our employees and sponsors deserve the recognition for their efforts as we look forward to introducing our unique products which eliminate asset downtime, waste, maintenance costs and liabilities for our customers."
Forbes' list of America's Most Promising Companies features 100 privately held up-and-comers with compelling business models, strong management teams, notable customers, strategic partners and precious investment capital.
"Sizing up younger, privately held companies is hard: Their fortunes can change very quickly and there's a dearth of public data," says Forbes Executive Editor Brett Nelson. "We took a more comprehensive approach to evaluate their health and potential."
To view the complete list, please visit www.forbes.com/ampc.
About Abakan Inc.
Abakan Inc. is dedicated to becoming a world market leader in the next generation of surface modification technologies, which protect critical infrastructure, industrial equipment and operating components from corrosion and wear. To accomplish this, Abakan is assembling controlling interests in next-generation materials science technology firms that have exceptional commercial potential. Currently, Abakan has a 71.1% interest (with an option to go to 85.2%) in MesoCoat, Inc.; a provider of advanced nanotechnology-based cermet thermal spray coatings and high speed cladding solutions, and a 41.0% interest in Powdermet, Inc.; a complementary and synergistic business producing proprietary metal formulations including hierarchically structured syntactic metal and ceramic composites used in MesoCoat's cladding and coating processes.
Forward-Looking Statements:
A number of statements contained in this press release are forward-looking statements. These forward-looking statements involve a number of risks and uncertainties including technological obsolescence, market acceptance of future products, competitive market conditions, and the sufficiency of capital resources. The actual results Abakan may achieve could differ materially from any forward-looking statements due to such risks and uncertainties. Abakan encourages the public to read the information provided here in conjunction with its most recent filings on Form 8-K, Form 10-K and Form 10-Q. Abakan's public filings may be viewed at www.sec.gov.
Abakan Inc.
Robert Miller, Chief Executive Officer
Phone: +1-786-206-5368
Email: [email protected]
www.abakaninc.com